Disease Outbreaks in California Nursing Homes
A nursing home should not be a scary place. Although nursing home residents are often frail and elderly, they should not suffer physical or emotional abuse. Our nursing home abuse lawyer Alameda California is here to help you file a claim if a preventable disease outbreak occurs in your loved one's nursing home.
Nursing homes have specific protocols and procedures meant to prevent abuse, including outbreaks of preventable diseases. However, if your loved one has gotten sick and died from a preventable illness, you may have a personal injury claim. At Siegal & Richardson, LLP our nursing home abuse lawyer Alameda California is here to help you pursue justice. Contact us today at 510-271-6720.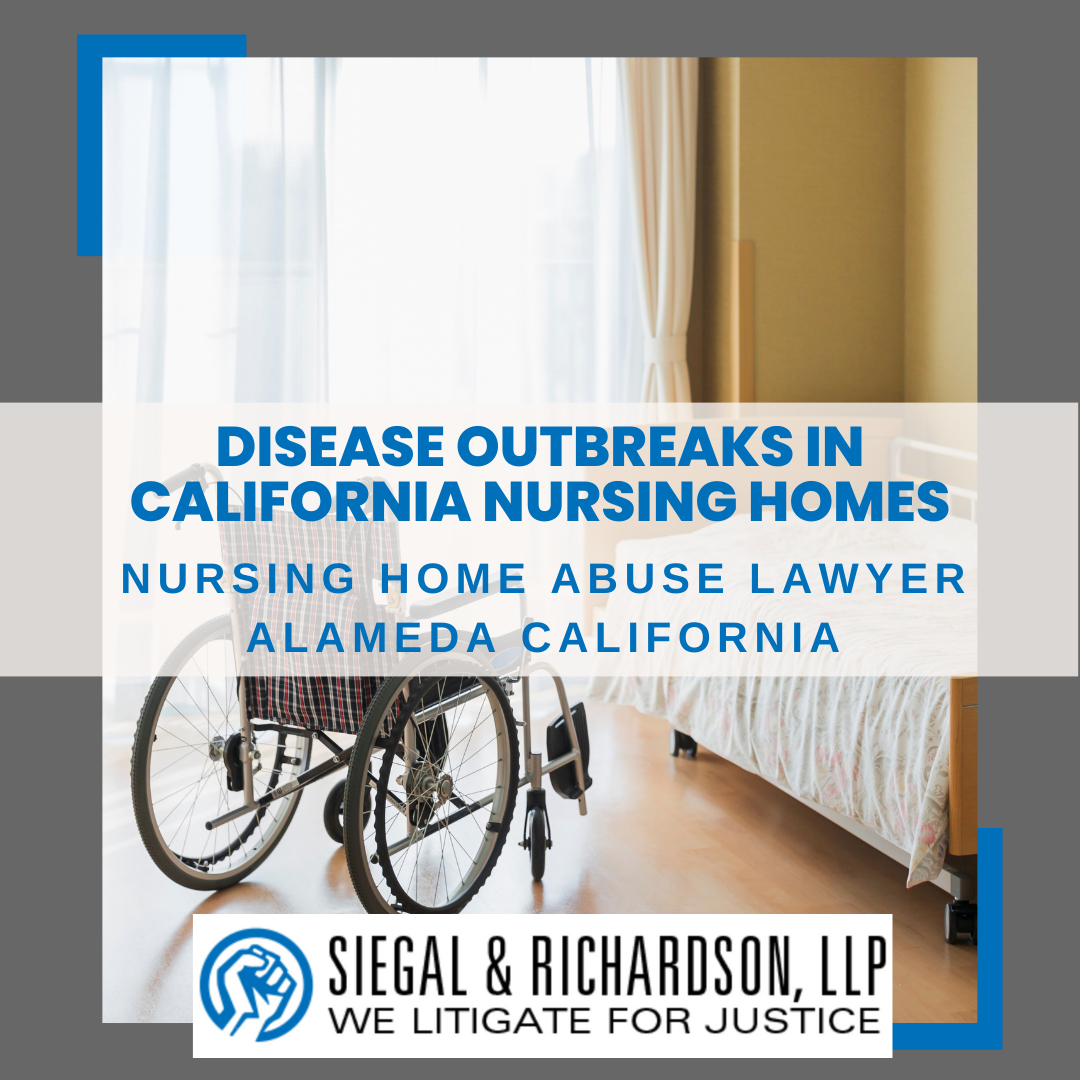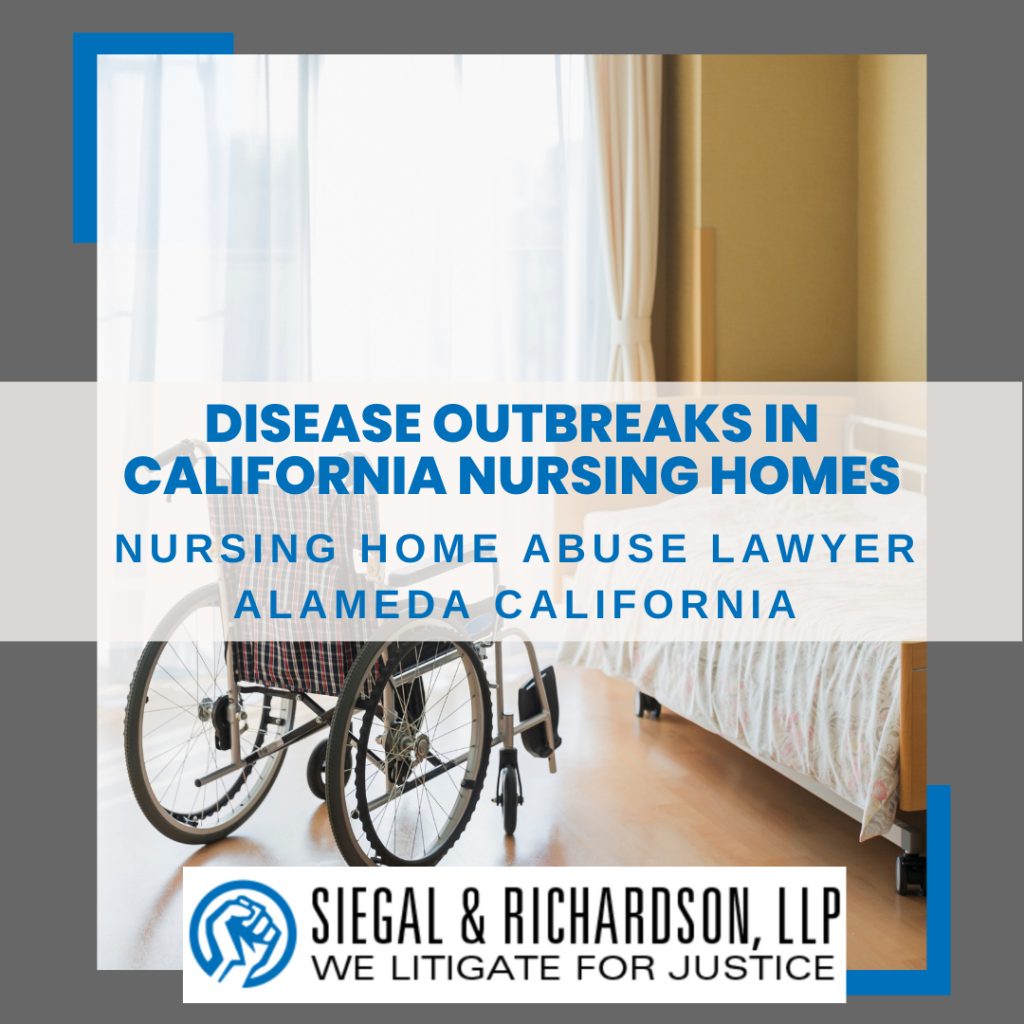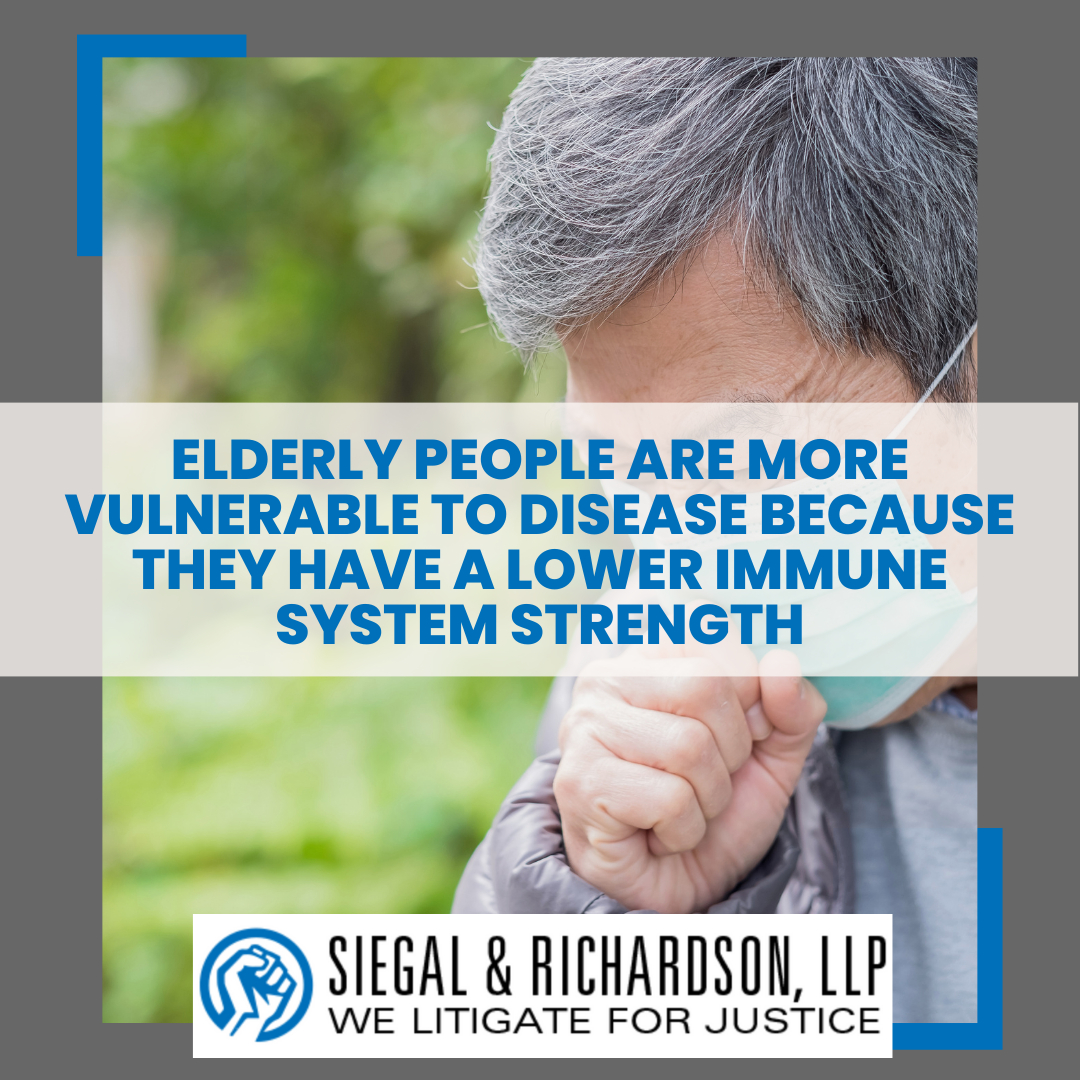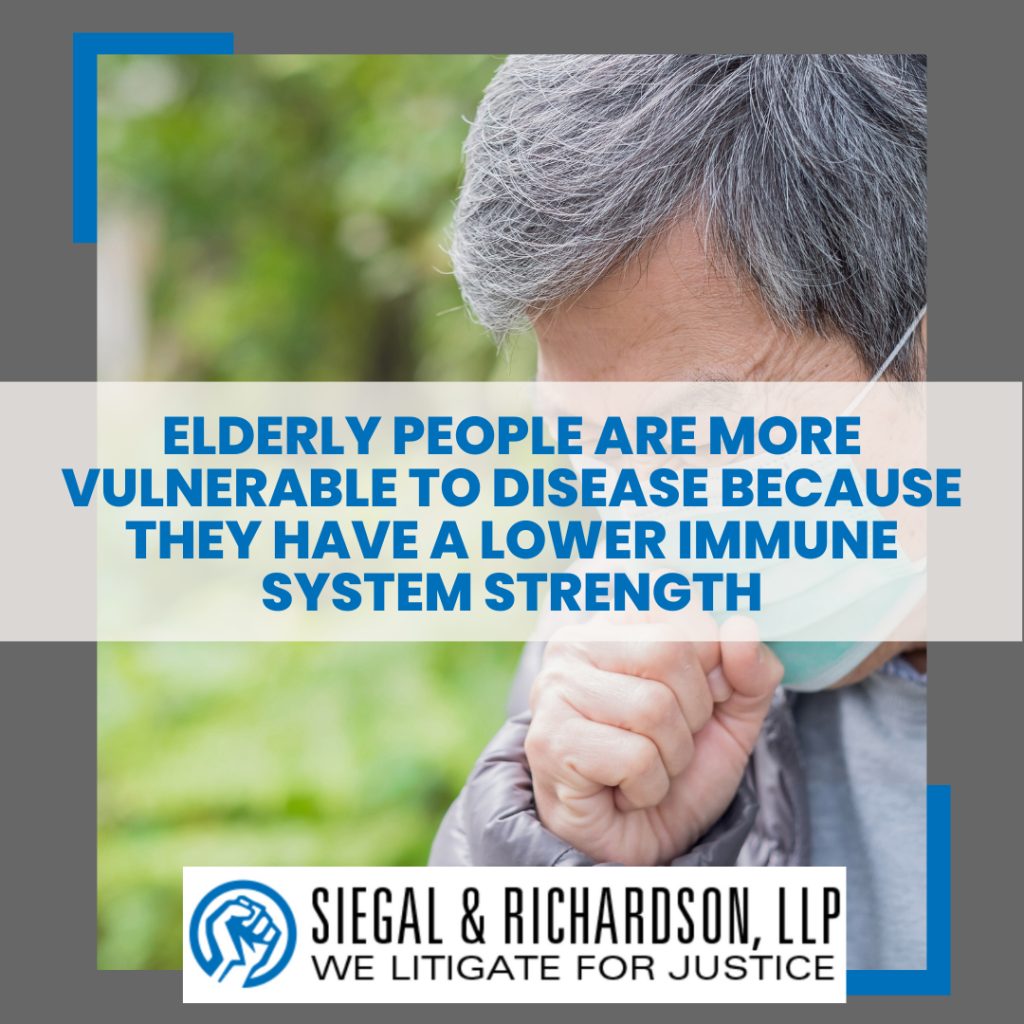 The elderly can be vulnerable to disease
Elderly people are more vulnerable to disease because they have a lower immune system strength. Therefore, nursing home residents are more likely to get sick from germs and viruses that other people would fight off easily. That is why it is essential that long term care facilities adhere to protocols to prevent them from spreading to numerous patients. 
Nursing homes provide immunization programs to protect their residents against common diseases such as influenza, pneumonia and shingles. These vaccines can prevent illness in some cases and can lessen the severity of symptoms if a person does become sick later on down the road. They have additional guidelines they should follow for disease prevention.
It can be difficult for nursing home residents to speak out about abuse 
When a loved one is sick, you want the best possible care for them. It can be difficult to ensure quality care is prioritized because some residents may not be able to speak up. They may be too weak or ill to do so, and they might not even be able to communicate with others in the first place. If they're afraid of retaliation, they won't trust anyone enough to report what's happening. 
It is really important that you and your family have a system or schedule in place to check on your loved one and make sure their needs are being met. If you notice a lot of residents in a California nursing home that are ill, you need to be their advocate and speak up. If your loved one becomes gravely ill or dies from a preventable disease outbreak in a nursing home, you need a nursing home lawyer Alameda California to help you. 
Here are some steps you can take:
Contact a lawyer. The first step in finding justice for your loved one is contacting an experienced attorney, like those at Sigel & Richardson, who can guide you through the process of filing a lawsuit against the nursing home responsible for their injuries or death. It is important to do so as soon as possible after learning about the abuse or neglect because there are time limits on filing lawsuits.
Contact a nursing home abuse hotline. You can contact the California Long-term Care Ombudsman CRISISline at 1-800-231-4024. You can also report abuse and neglect to the California Department of Social Services at 1-844-538-8766. If your loved one was not physically harmed but was emotionally abused or neglected by staff members of the nursing home, you may still be eligible for compensation.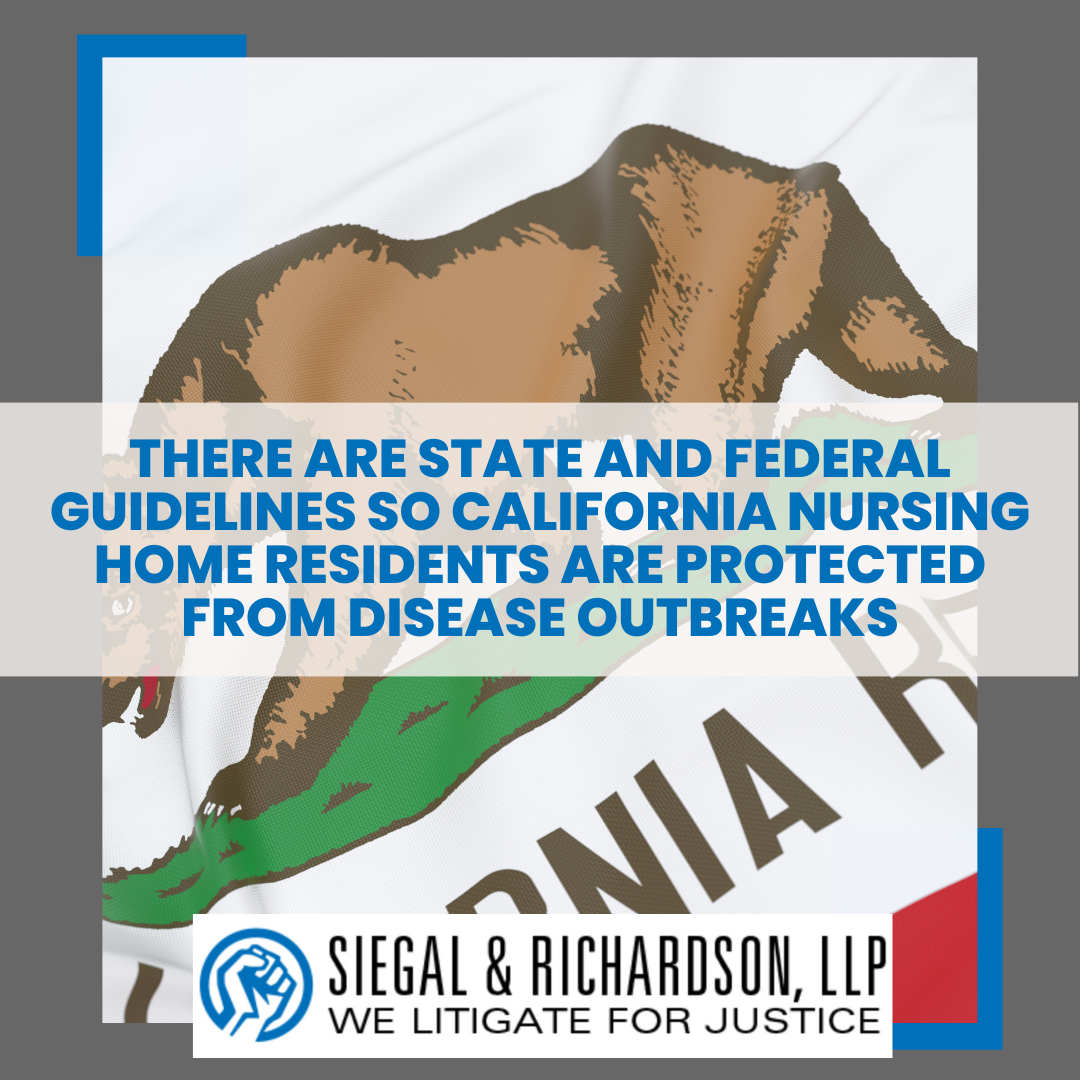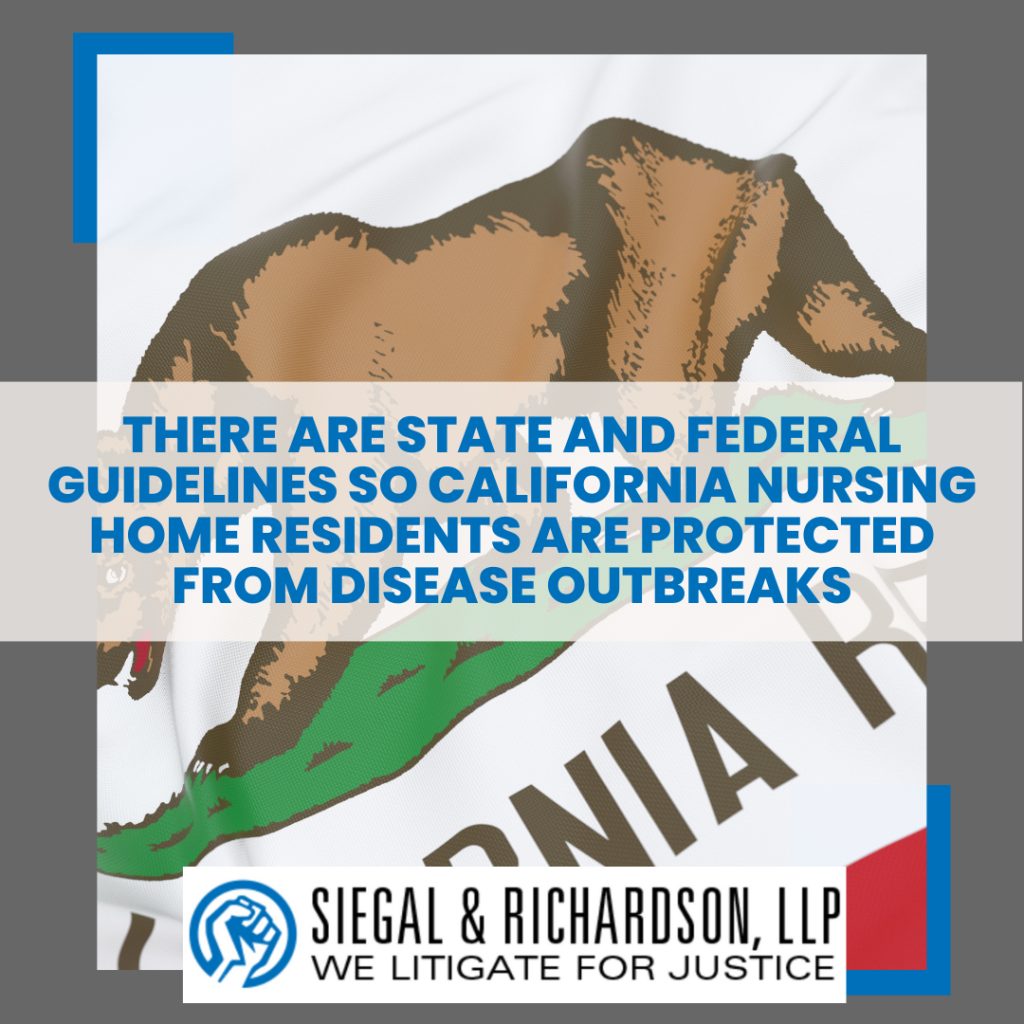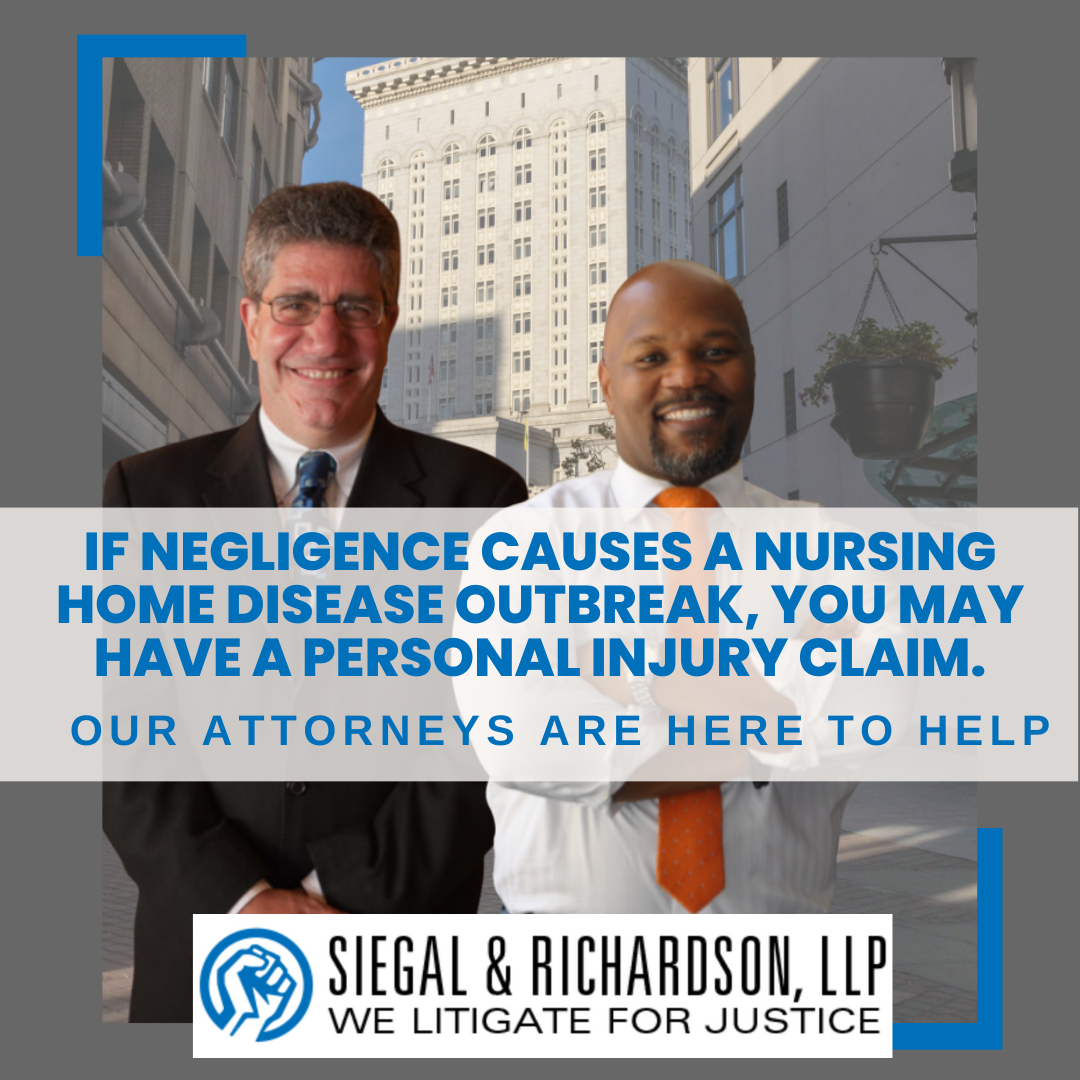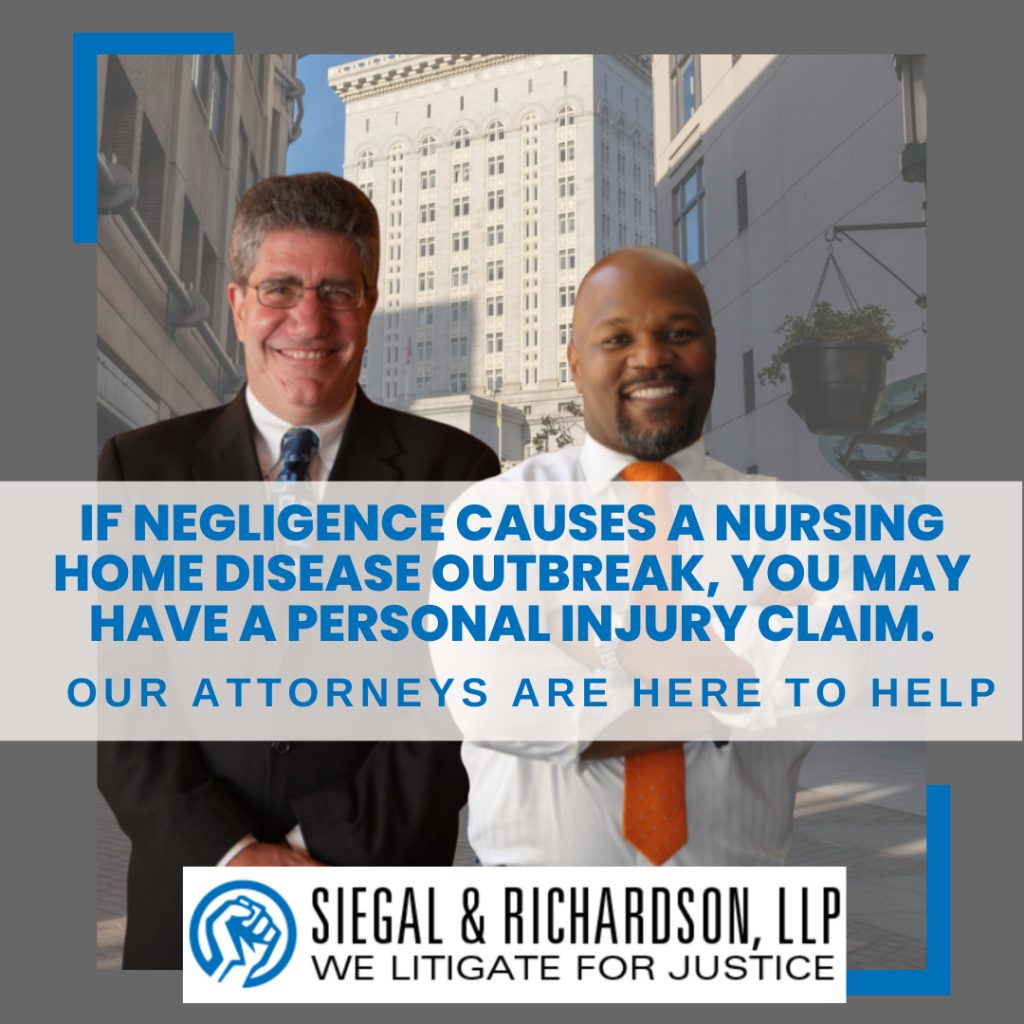 How nursing homes can prevent disease outbreaks
Nursing homes in California are licensed, regulated, inspected and/or certified by a number of public and private agencies at the state and federal levels. The California Department of Public Health licenses and regulates these facilities. There are standards set by these agencies and laws, there are rights that each nursing home resident has, and you do have the right to file a lawsuit if these regulations are violated. 
Some common practices to prevent disease outbreaks are;
Infection prevention and training
Following specific cleaning protocols
Frequent handwashing and cleaning patients' hands often
Using antimicrobial liquids for high risk patients
Using special precautions and protective equipment when patients have open wounds, catheters, or feeding tubes
Although there are guidelines and standard practices, sometimes neglect by nursing homes can lead to a disease/illness outbreak. When this happens, you need a nursing home abuse lawyer Alameda California. Our attorneys at Siegal & Richardson can help you get compensation for your loved one. 
If your loved one has been harmed in a nursing home, our nursing home lawyer Alameda California is here to help 
If you suspect that your loved one has suffered in a nursing home, it's important for you to report it immediately. You should contact the California Department of Aging and contact Siegal & Richardson. At Siegal & Richardson, LLC, we have a reputation for success because we care for our clients. And, we have a profound understanding of the law and a passion for the pursuit of justice.